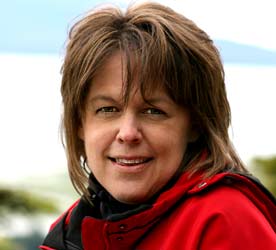 I grew up in the cosmetology world. My mom went to school when I was little. She always practiced on my sisters and me. I loved having beautiful nails. I went to cosmetology school right out of high school. After graduation, I worked with my mom in the first nail salon in Kansas City. My clientele immediately blossomed and I found myself with a cancellation list every day. I worked sometimes 10 hours a day just trying to get everyone in.
I love to stay up on the latest products and techniques so I went to California and Chicago regularly for training. I competed in a few nail competitions as well. As the industry grew here, training became available in the area.

My husband and I decided to open our own nail salon in Kansas City, Heavenly Nails, almost 15 years ago and it has been wonderful.


I cut back while I home schooled my children for 6 years. As they head off to college, I have time now to devote to the business again.

Speaking of the kids...both are now married. Tim married Krystal on May 28, 2011 and Korina married Sam on June 11, 2011. It was a busy couple of weeks.

Several years ago a friend told me about gel. I thought no way! I remember in the early days when gel was terrible. It yellowed, lifted, became crumbly, and was very hard to work with. Besides, I really liked the acrylic product I was using. However, I did like the way this new gel didn't lose the fresh appearance and shine after several weeks and it didn't seem to lift. My friend really liked them, so I checked it out. The closer I looked at this product the more I liked it. I found a salon up north that used gel. Sheri Walker, the owner (wonderful lady!! Thanks Sheri:), answered my questions about the product and allowed me to come watch her work. I contacted the gel company and asked about training but they said,
"All our business is in Europe. The US is sold on liquid and powder (out of ignorance to gel)
and techs don't want to switch over, so we don't do much training here."
Wow, we were really missing out!!!! But that wasn't going to stop me!
I then spent the next year and a half testing gel products, experimenting on my daughter (who loves having beautiful nails, I might add), and learning and working with gel on my own. Finally, after extensive training with Creative Nail Design, I've earned my Master Gel Technician's Certification.
Truly, my first choice is Gel Nails, but I do make other options available,
because just like snowflakes, no two people are alike; I'll work with you until we find success.
I have almost 30 years of reputable experience in the nail industry. Gel Nails, done properly, far exceed anything available for nail enhancements today. The benefits of gel nails are so great to both the patron and the technician. I believe this is just the beginning of gel nails here in the US. It's not just the latest fad!